The Thunderbolt™ 3 mini Docks provide the easiest and most affordable way of bringing back your laptop's ports. Thunderbolt™ 3 users can re-connect with their legacy devices in the most convenient way possible.
The mini Docks offer the easiest way to connect dual 4K 60Hz monitors to your Thunderbolt 3 laptop in either mirrored or extended modes.
** Intel-based Macs can support up to 2 external monitors from each Thunderbolt 3 bus. Apple M1/M2 Macs, such as the MacBook Pro 13", MacBook Air, and Mac mini, only support 1 external display though their Thunderbolt/USB 4 bus. Apple M1 Pro & M1 Max Macs support dual displays though the Mini Dock.
Got a new Mac or PC Thunderbolt 3 laptop? Are you plugging in countless Type-C Adapters? Make your life easier with the Thunderbolt 3 mini Docks, at home or on the road.
A single tethered cable from the mini Dock to your Thunderbolt 3 laptop is all it takes to light-up two displays, connect to the internet and add USB devices.
THE PERFECT TRAVEL COMPANION
Take the mini Dock on the road to conveniently connect all your devices.
*Some Windows PC manufacturers have decided to restrict functionality on their Thunderbolt 3 and USB-C ports such as charging and monitor compatibility. Check to see if your PC supports external monitors.
**Some refresh rates require DP 1.4 HBR3 and DSC 1.2 support from host GPU and monitor.
Some Thunderbolt 3 hosts that only support DP 1.2 will be capped at a lower resolutions & refresh rates.
The bit/color depth may vary in order to support higher refresh rates. The support of higher refresh rates may vary due to OS updates.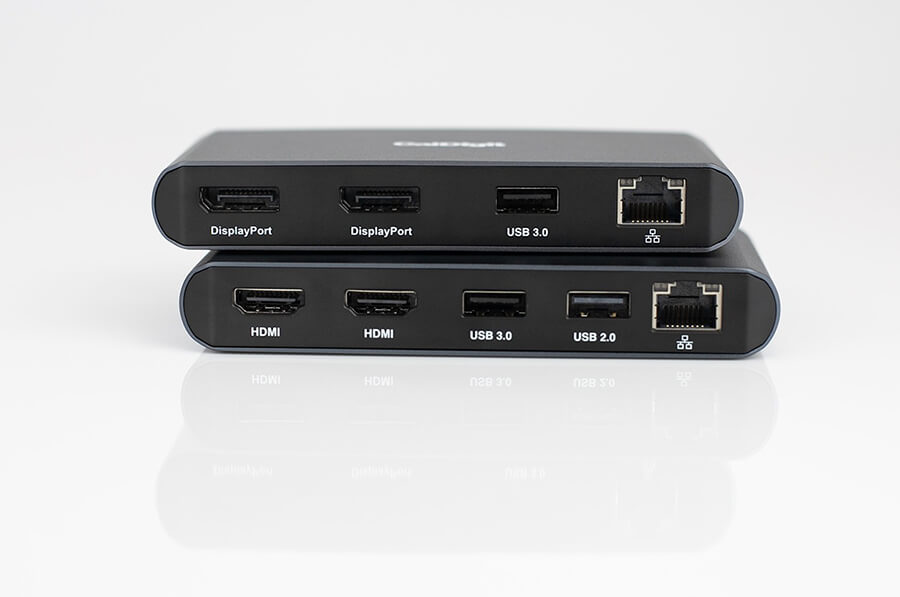 Choose between the dual HDMI or dual DisplayPort models for your specific configuration.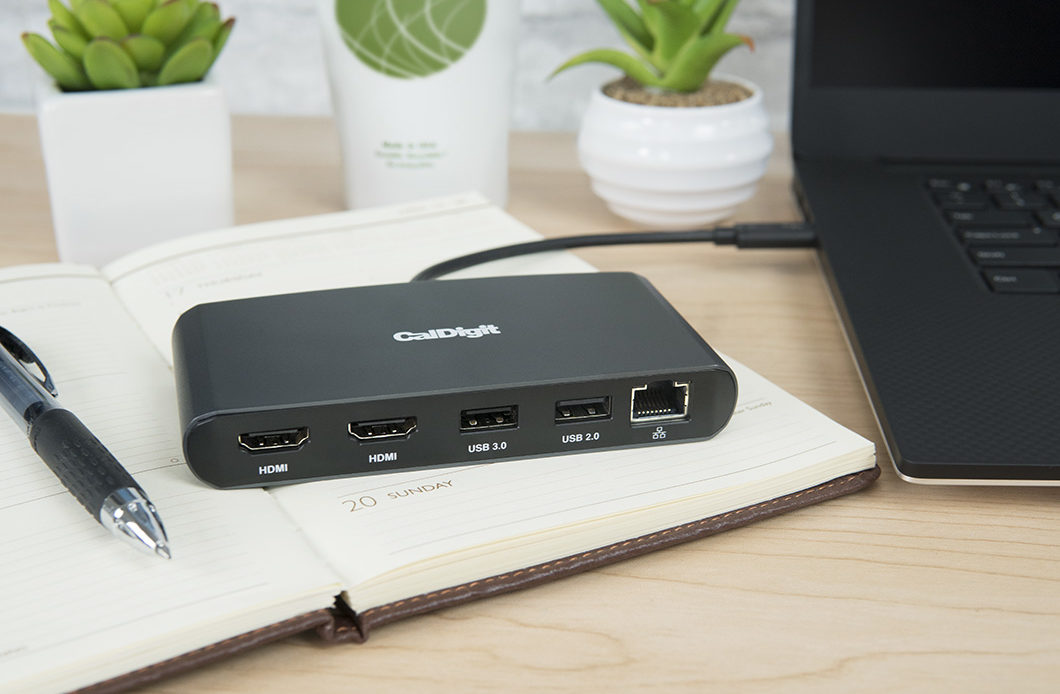 Whether you're using the latest MacBook Pro, Thunderbolt iPad Pro or Windows Thunderbolt 3 PC, the CalDigit mini Docks are fully compatible with all of them.
*Apple M1 Macs and iPad Pro can only support a single external monitor.
M1 Pro & M1 Max based Macs support dual displays.
These docks are fully certified Thunderbolt 3 devices, unlike cheap USB-C Adapters that only offer 5Gb/s performance, the CalDigit mini Docks offer 40Gb/s to take advantage of your Thunderbolt 3 laptop.
SAY GOODBYE TO CHEAP USB-C ADAPTERS
When it comes to USB-C mini docking solutions, they may pack many ports into their design, but they don't adhere to the 15W of power allocated to the Thunderbolt 3 port. The CalDigit mini Docks have just the right amount of ports to be under the 15W of bus-power that's served to your laptop's ports. Cheap USB-C adapters don't follow the Thunderbolt 3 specification and can be harmful to your laptop and cause power issues since they could only get 7.5W from the computer. CalDigit's mini Docks, on the other hand, don't have this problem.  
Unlike cheap USB-C Adapters, CalDigit's mini Docks are built from aluminum, in order to endure the rigors of travel.
Connect various USB devices such as external drives, keyboards & more.
| | HDMI mini Dock | DisplayPort mini Dock |
| --- | --- | --- |
| | | |
| | | |
CalDigit mini Dock Dual HDMI 
​
Interface
1 x Thunderbolt 3 (40Gb/s)
2 x HDMI 2.0 (3840x2160 60Hz or 4096x2160 60Hz)
1 x USB 3.0 (5Gb/s)
1 x USB 2.0 (480Mb/s)
1 x Gigabit Ethernet (RJ45)​
System Requirements
Thunderbolt 3 computers or Thunderbolt iPad Pro
mac OS 10.12 or later
Windows 10 or later
In the Box
1 x CalDigit Thunderbolt 3 mini Dock - HDMI 2.0
Power Supply Adapter
Bus-powered
Environment
0°C ~ 35°C (32°F ~ 95°F)
CalDigit mini Dock Dual DisplayPort
Interface
1 x Thunderbolt 3 (40Gb/s)
2 x DisplayPort 1.2 (4096x2160 60Hz)
1 x USB 3.0 (5Gb/s)
1 x Gigabit Ethernet (RJ45)
System Requirements
Thunderbolt 3 computers or Thunderbolt iPad Pro
mac OS 10.12 or later
Windows 10 or later
In the Box
1 x CalDigit Thunderbolt 3
mini Dock - Dual DisplayPort
Power Supply Adapter
Bus-powered
Environment
0°C ~ 35°C (32°F ~ 95°F