Professional External Storage, Redefined.
The CalDigit AV Pro 2 Storage Hub is the exciting new evolution of our original single drive solution. It is an expandable storage device specifically designed to compliment any Thunderbolt 3 computer out of the box. Thanks to the AV Pro 2's ability to connect to any laptop it can be used by anyone regardless of their connectivity options.
The AV Pro 2 is a triple threat. Not only does it provide extra storage, but it will also charge your laptop in addition to adding a USB 3.0 hub for expanding your connectivity. One cable from the AV Pro 2 to your Thunderbolt 3 laptop will add all these great features. Why buy an external drive that only offers storage? The AV Pro 2 goes beyond the ordinary to offer unprecedented features not traditionally found in a storage device.
| | Add up to 8TB Storage Capacity | Connect Extra USB Devices | Charge Laptop up to 30W |
| --- | --- | --- | --- |
| | | | |
| | | | |
| | | | |
| | | | |
| | | | |
| | | | |
Not only does the AV Pro 2 Storage Hub store important data quickly and securely, but it also enables the capability to simultaneously charge the Thunderbolt 3 laptop it is connected to. Charge your laptop up to 30W while connected to the AV Pro 2 without connecting your factory AC adapter. The AV Pro 2 Storage Hub integrates seamlessly into your workflow so you can start that new project and continue working productively.
Ultimate Dual Interface Convenience: USB–C or USB Micro B
The AV Pro 2 Storage Hub includes dual interface ports that make it easy to connect to virtually any computer. The latest USB-C port delivers blazing transfer speeds while simultaneously charging supported USB-C or Thunderbolt™ 3 laptops. For computers with traditional USB Type-A ports, no worries either. The AV Pro 2 also provides the most popular USB Micro B port to connect to any USB port enabling full compatibility with any computer on the market today.
Built-in USB Hub Versatility
The AV Pro 2 Storage Hub also features two USB 3.0 Type-A ports that allow you to connect all your USB peripherals such as high-speed storage, card readers, Apple SuperDrives and even daisy chain to another AV Pro 2 Storage Hub. Backward compatibility ensures that all of your older USB 3.0/2.0/1.0 peripherals such as printers and mice will work flawlessly.
CalDigit is known for it's Mac-centric design and is passionate about designing products that compliment Apple devices aesthetically and functionally. No other external storage devices on the market are able to support Apple's SuperDrive. The CalDigit AV Pro 2 Storage Hub is the first to deliver such compatibility.
When you have a device that brings all of your peripherals together, a convenient way to quickly disconnect all of them safely is paramount. The free downloadable CalDigit Docking Station Utility allows you to eject all attached devices with a single click of your mouse, saving you the hassle of ejecting each peripheral individually. This powerful time-saving solution makes disconnecting your CalDigit AV Pro 2 Storage Hub from your Mac extraordinarily easy.
Stand-Alone High Speed Charging
The AV Pro 2 Storage Hub's USB 3.0 ports feature stand-alone fast charging at 1.5A (7.5W), which will charge devices 133% faster than a standard USB 3.0 port and 40% faster than a typical Quick Charge USB 3.0 port, even when it is not connected to a computer.
Your Whole 4K Workflow, Covered.
Transferring 4K
Are you constantly transferring 4K files from your camera or SD card reader? Connect them to the AV Pro 2's USB 3.0 Hub and easily transfer your files straight to the AV Pro 2's hard drive for the ultimate simplified workflow.
Edit 4K
With performance up to 430MB/s, the AV Pro 2 SSD model, is ready to store and playback your next 4K project. Whether you're editing your next ultra-high definition video or playing back a 4K video file, get ready for outstanding performance while simultaneously charging your laptop.
Store 4K
Do you have endless hours of 4K footage taking up space on your laptop? Free up room by backing-up 6TB of 4K files to the AV Pro 2 HDD model.
The AV Pro 2 Storage Hub features UASP (USB attached SCSI protocol), a transfer protocol that dramatically improves transfer performance. UASP allows USB devices to queue multiple commands and execute them out of order in both directions, greatly increasing the efficiency and performance of the interface.​
In the past, transfers using the older BOT (Bulk-Only Transport) protocol only allowed a single, unidirectional command at a given time and did not have the ability to perform out of order requests. Utilizing the efficiency of UASP and the speed of SSDs, the AV Pro 2 Storage Hub is able to reach a level of performance previously unattainable by single drive storage solutions.
Just connect the supplied Type-C cable to your computer's Thunderbolt™ 3 port and you're all set to go with storage, laptop charging, and USB hub expandability. Compatible with all the latest Thunderbolt™ 3 Mac and PC laptops, the AV Pro 2 offers single cable simplicity. If you don't yet have Thunderbolt™ 3 you can use the AV Pro 2's USB 3.0 connectivity to connect to any other computer, then in the future you can always connect to the Type-C port for added flexibility.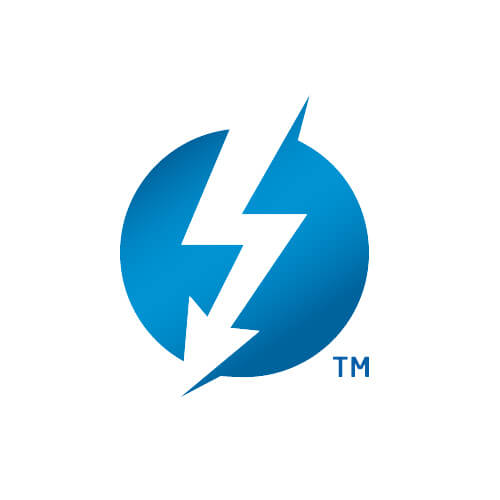 Like all CalDigit storage products, the AV Pro 2 Storage Hub can use both full size 3.5″ and 2.5" solid state drives. The convenient removable drive module design allows users to expand and upgrade their systems in a blink of an eye. Users are no longer limited to choosing between capacity and performance.
| | AV PRO 2 HDD Performance | AV Pro 2 SSD Performance |
| --- | --- | --- |
| | | |
| | | |
| | | |
The AV Pro 2 features both active and passive cooling systems that allow the hard drive to stay in nominal operating temperatures at all times. The energy saving, ambient temperature-controlled smart fan runs only when the AV Pro 2 needs it most. It can be disabled due to the low heat, resulting in ultra silent operation.
CalDigit carries a philosophy of utilizing the best materials and components to ensure years of reliable operation and customer satisfaction. Instead of using plastic to reduce overall cost, the design team insisted on choosing aluminum as their top pick for its outstanding heat dissipating properties, superior structural integrity, weight, aesthetics, and 100% recyclability. CalDigit stands behind every product and aims to deliver the highest quality to everyone, even if it means reduced profits to furnish the best.
Just like its predecessor, the AV Pro 2 features removable drive modules that are compatible with other CalDigit storage products such as the AVPro, T3, and T4 RAID. Conveniently replace the drive module once your AV Pro 2 is full and easily transfer drives between your other CalDigit storage devices. Replacement CalDigit drive modules come with a hardshell case to keep your back-ups and archival drives secure.
The vast majority of the USB-C or Type-C cables on the market are inexpensive clones. These dangerous cables are potential fire hazards and can damage your devices from overcharging. CalDigit Certified USB-C cables feature calculated EMI shielding cord and a built-in electronic marker (e-marker). E-marker cables are smart gatekeepers communicating between the host and device ensuring optimum performance and safety are maintained. CalDigit only includes certified cables to protect your hard earned investment and peace of mind.
Interface
1x USB 3.1 Gen 1 Type-C port
1x USB 3.1 Gen 1 Micro B port 
2x USB 3.0 Type-A Hub ports
Power Supply Adapter
​AC Power Adapter Full range 
Output: DC 12V, 5A 
EMC: CE, FCC, UL, BSMI, CCC, RCM, EAC, UL AR, S-mark, PSE
​
Dimension and Weight
Height: 5.8 inches (147 mm)
Width: 1.8 inches (45.5 mm)
Depth: 9.5 inches (241.5 mm)
Weight: 4.37lb (1.98kg)
System Requirements
The latest version of Windows 7, 8 , 10 
Mac OS X 10.8.4 and above
Environment
Operating Temperature:5°C ~ 55°C (41°F ~ 131°F)
Storage Temperature:--40°C ~ 70°C (-40°F ~ 158°F)
In the Box
1 x CalDigit AV Pro 2 Storage Hub
1 x Drive Module
1 x USB 3.1 type-C to type-C Cable
1 x USB 3.0 type-A to micro B Cable
1 x AC Adapter
1 x Drive Key
1 x Drive Stand