De Thunderbolt™ 3 mini Dock is de makkelijkste en goedkoopste manier om poorten toe te voegen aan uw laptop. Thunderbolt™ 3 gebruikers kunnen hierdoor met gemak randapparatuur verbinden.
De mini Dock is de makkelijkste manier om twee 4K 60Hz monitors aan te sluiten op uw Thunderbolt 3 laptop, in zowel synchrone weergave als uitgebreid bureaublad.
** Intel-based Macs can support up to 2 external monitors from each Thunderbolt 3 bus. Apple M1/M2 Macs, such as the MacBook Pro 13", MacBook Air, and Mac mini, only support 1 external display though their Thunderbolt/USB 4 bus. Apple M1 Pro & M1 Max Macs support dual displays though the Mini Dock.
Hebt u een nieuwe Mac of PC Thunderbolt 3 laptop? Gebruikt u talloze Type-C adapters? Maak het leven makkelijker met de Thunderbolt 3 mini Dock, voor thuis of op reis.
Een enkele kabel die de mini Dock met uw Thunderbolt 3 laptop verbindt is alles wat u nodig hebt om twee monitors, internetverbinding en USB-apparaten aan te sluiten.
Neem de mini Dock mee op reis om gemakkelijk al uw randapparatuur aan te sluiten.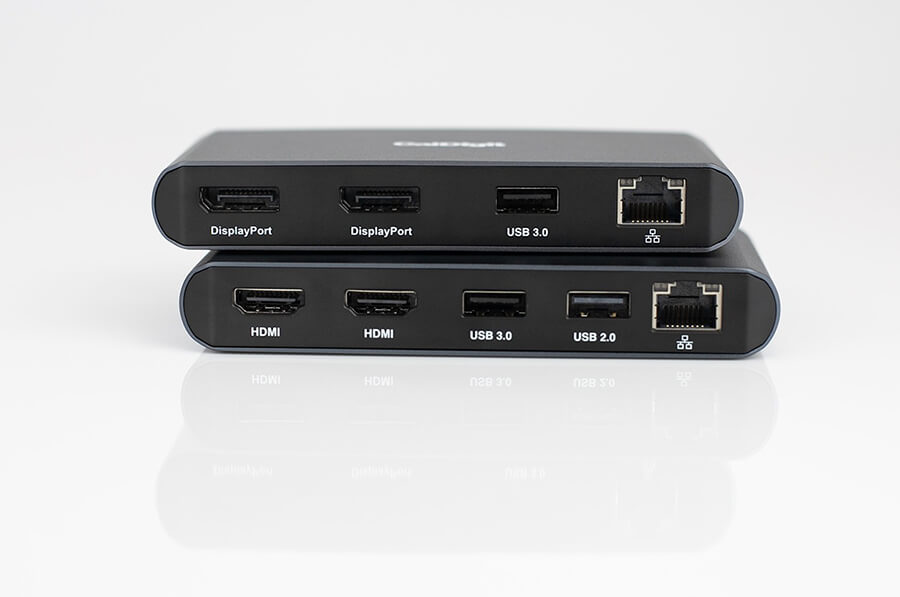 Kies tussen de dual HDMI of dual DisplayPort optie voor uw persoonlijke configuratie.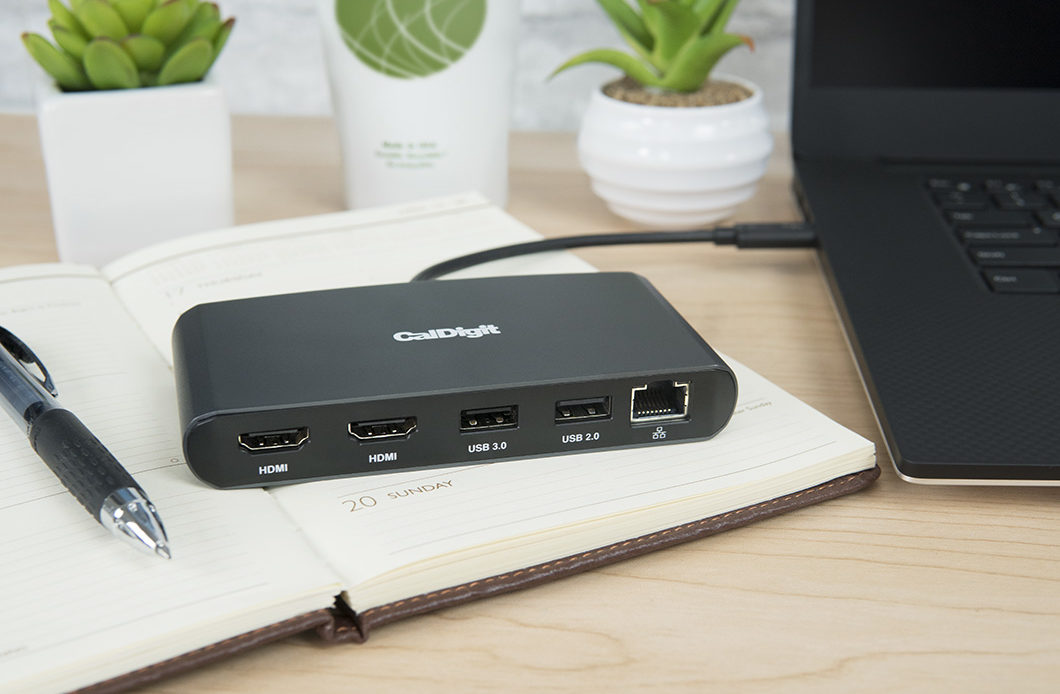 Of u nu de nieuwste MacBook Pro of een Windows Thunderbolt 3 PC gebruikt, de CalDigit mini Dock is volledig compatibel met beide.
*Apple M1 Macs and iPad Pro can only support a single external monitor.
M1 Pro & M1 Max based Macs support dual displays.
Deze docks zijn gecertificeerde Thunderbolt 3 apparaten. In tegenstelling tot goedkope USB-C adapters die alleen 5GB/s kunnen bieden, kan de CalDigit mini Dock de snelheid van uw Thunderbolt 3 laptop optimaal benutten tot wel 40Gb/s.
GEEN GOEDKOPE USB-C ADAPTERS MEER
USB-C mini docking solutions die veel poorten in hun design bouwen houden vaak geen rekening met de 15W stroomtoevoer waarover de Thunderbolt 3 poort beschikt. De CalDigit mini Dock heeft precies het juiste aantal poorten wat ervoor zorgt dat die 15W stroomtoevoer niet overschreden wordt. Goedkopere USB-C adapters volgen deze Thunderbolt 3 specificatie niet wat ervoor kan zorgen dat uw laptop beschadigd raakt. CalDigit's mini Dock heeft dit probleem echter niet.
In tegenstelling tot USB-C adapters is onze CalDigit mini Dock gemaakt van aluminium zodat het reisbestendig is.
Sluit verscheidene USB-apparaten aan zoals externe harde schijven, keyboards en meer.
| | HDMI mini Dock | DisplayPort mini Dock |
| --- | --- | --- |
| | | |
| | | |
CalDigit mini Dock Dual HDMI
​
Interface
1 x Thunderbolt 3 (40Gb/s)
2 x HDMI 2.0 (3840x2160 60Hz or 4096x2160 60Hz)
1 x USB 3.0 (5Gb/s)
1 x USB 2.0 (480Mb/s)
1 x Gigabit Ethernet (RJ45)​
Systeem Vereisten
Thunderbolt 3 computers or Thunderbolt iPad Pro
mac OS 10.12 or later
Windows 10 or later
Verpakkingsinhoud
1 x CalDigit Thunderbolt 3 mini Dock - HDMI 2.0
Oplader
Bus-powered
Omgevingstemperatuur
0°C ~ 35°C (32°F ~ 95°F)
CalDigit mini Dock Dual DisplayPort
Interface
1 x Thunderbolt 3 (40Gb/s)
2 x DisplayPort 1.2 (4096x2160 60Hz)
1 x USB 3.0 (5Gb/s)
1 x Gigabit Ethernet (RJ45)
Systeem Vereisten
Thunderbolt 3 computers or Thunderbolt iPad Pro
mac OS 10.12 or later
Windows 10 or later
Verpakkingsinhoud
1 x CalDigit Thunderbolt 3 mini Dock - Dual DisplayPort
Oplader
Bus-powered
Omgevingstemperatuur
0°C ~ 35°C (32°F ~ 95°F