CalDigit Docks & Apple M2, M1 Pro/M1 Max/Ultra Compatibility.
Thunderbolt 4 Element Hub
De CalDigit Thunderbolt 4 Element Hub is de eerste in z'n soort die 4x de snelheid van traditionele USB-C hubs biedt en tegelijkertijd de kracht van Thunderbolt 4 gebruikt voor een apparaat zonder beperkingen.
U kunt met de Element Hub uw apparaten in verschillende opstellingen aansluiten, wat u de kans geeft om unieke opstellingen te creëren met eindeloze mogelijkheden.
Verbind wat u wilt, wanneer u het wilt.
De interface van hubs zijn altijd bepalend geweest voor de functionaliteit van de hub, wat hun potentie beperkt. De Element Hub, gecombineerd met de kracht van Thunderbolt 4, heeft het ons mogelijk gemaakt om de meest ambitieuze hub op de markt te creëren.

Het gebruik van Thunderbolt 4 is de perfect interface voor een apparaat als deze, omdat het een veelzijdigheid met zich mee brengt die nog niet in een hub te vinden was.
| | Element Hub | USB-C Hub | USB-C Hub |
| --- | --- | --- | --- |
| | | | |
| | | | |
| | | | |
| 6K 60Hz Apple Pro Display XDR | | | |
| | | | |
| | | | |
| | | | |
| | | | |
| Connect Thunderbolt Display | | | |
| Thunderbolt 3 & 4 Compatible | | | |
| | | | |
| | | | |
| Daisy-Chain Thunderbolt Devices | | | |
| | | | |
Of course the Element Hub is not only for Thunderbolt 4 users. This versatile device is backwards compatible with Thunderbolt 3, USB-C, and USB 4.

This means that the Element Hub will adapt to the connected host computer in order to provide the features available to you, making the Element Hub an ideal solution for multi-workflow environments.
In addition, the included Thunderbolt 4 cable is compatible with Thunderbolt 4, Thunderbolt 3, USB-C and USB 4 Type-C computers.
Het mooie van de Element Hub's vier Thunderbolt 4 poorten is dat het u de kans geeft een apparaat te creëren die u wilt.
Wilt u meerdere SSDs, SD kaartlezers, RAID opslag of dual 4K monitors aansluiten? Geen probleem.
Beschouw de Element Hub als een leeg canvas, klaar om gekleed te worden met de apparaten die u nodig heeft.
Het samenvoegen van Thunderbolt en USB maakt het mogelijk om apparaten zoals de Element Hub te voorzien met vier Thunderbolt 4 poorten. Eén Thunderbolt 4 poort verbindt de hub met de host computer en de overige drie poorten kunnen gebruikt worden voor het aansluiten van andere apparaten, zoals een extra Element Hub. De opstellingsmogelijkheden zijn eindeloos.
Voorbeelden van apparaten die verbonden kunnen worden aan de Thunderbolt 4/USB4 poorten
*Thunderbolt apparaten en monitors die aangesloten zijn via de Element Hub zijn alleen compatibel met Thunderbolt of USB4 host computers.
MET MINDER DAN HET ALLERSNELSTE
De Thunderbolt 4 poorten kunnen snelheden ondersteunen tot wel 3000MB/s zodat u optimaal gebruik kunt maken van uw ultrasnelle dataopslag apparaten. Dat is 8,5x zo snel als een gemiddelde 5GB/s USB-C hub, die maar tot 350MB/s bieden via hun USB-A poorten.
| | Element Hub (Thunderbolt 4) | USB-C 5Gb/s Hub (USB-A) |
| --- | --- | --- |
| Max. External Harde Schijf Snelheid | | 350MB/s (Algemene snelheid) |
| | | |
*Thunderbolt SSDs zijn alleen compatibel met Thunderbolt & USB4 host computers. De daadwerkelijke snelheid kan iets lager uitvallen vanwege latentie en protocol overhead.
Terwijl de Element Hub's Thunderbolt 4 poorten een verscheidenheid aan verbindingsmogelijkheden bieden, heeft de hub daarnaast ook ingebouwde USB-A 10Gb/s poorten (USB 3.2 Gen.2) waarmee u gemakkelijk tot wel vier USB-A apparaten kan aansluiten zoals ultrasnelle NVMe SSDs.
Jarenlang waren Thunderbolt docks voornamelijk gericht op het gebruik met laptops. De Element Hub is echter ook een perfect optie voor desktop gebruikers, zoals iMac en MacPro gebruikers.

Gebruik de Element Hub met een langere 2M kabel zodat u gemakkelijk toegang heeft tot de poorten vanaf uw bureau in plaats apparaten aansluiten van achter een monitor of onder uw bureau.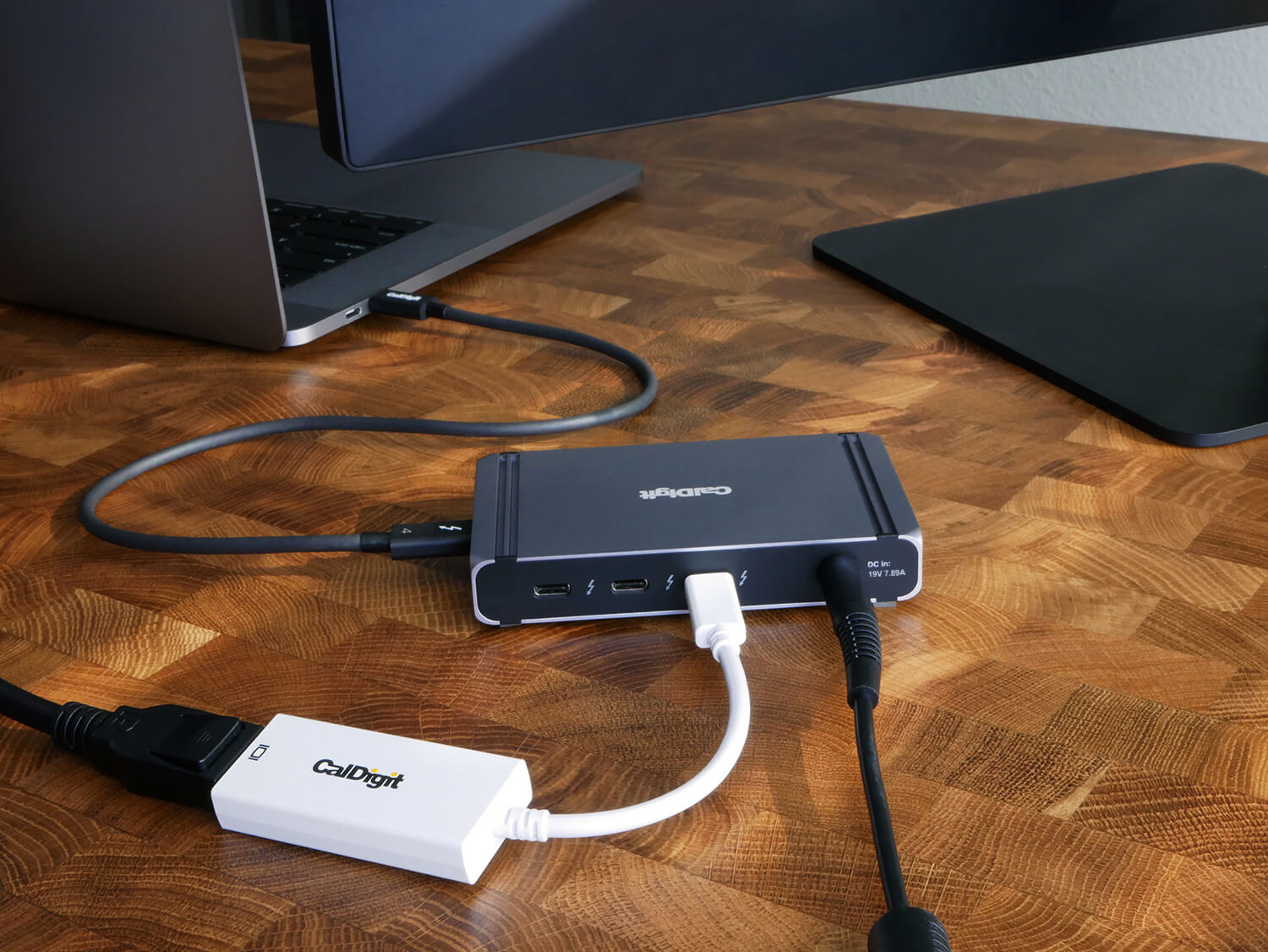 Omdat de Element Hub meerdere Thunderbolt 4 poorten heeft kunt u elk type monitor aansluiten die u nodig heeft.
U kunt direct een USB-C, Thunderbolt 3, of Thunderbolt 4 monitor plug and play aansluiten.
Daarnaast kunt u ook een USB-C video adapter gebruiken om HDMI of DisplayPort monitors mee aan te sluiten.
*Met het gebruik van de Apple Thunderbolt 3 naar 2 Adapter.
**Met het gebruik van een USB-C Video Adapter.
Als de Element Hub aangesloten is op een Thunderbolt 4 host computer kan het tot een 8K resolutie, of dual 4K 60Hz monitor aansluiten in zowel synchrone weergave als uitgebreid bureaublad optie.
Voor niet-Thunderbolt 4 gebruikers kunt u de ondersteunde monitor resoluties hieronder vinden.
TBT4, TBT3 & USB4 PC*

Intel TBT3 Macs**

Apple M1/M2 Macs

Apple M1/M2 Pro, Max & M1 Ultra

USB-C 10Gb/s PC (DP 1.4)

USB-C 5Gb/s PC (DP 1.2)

iPad Pro (TBT)

iPad Air (4th Gen)

ChromeBook

Windows Tablet

Apple M1 iPad Pro

5K 60Hz Thunderbolt Display

6K 60Hz Apple Pro Display XDR

Dual 6K 60Hz
Apple Pro Display XDR

Dual 5K 60Hz
Apple Studio Display Only.
(Does not support Dual LG UltraFine 5K)
*Enkele Windows PC fabrikanten hebben de functionaliteit van hun Thunderbolt 3 en USB-C poorten beperkt waardoor opladen en het aansluiten van monitors niet mogelijk is.
Check of uw PC een monitor ondersteunt.
**Op Intel gebaseerde Macs zijn vereist om te updaten naar macOS 11 (Big Sur) of hoger.
***8K 60Hz verversingssnelheid vereist DP 1.4, HBR3 en DSC 1.2 ondersteuning van host, GPU en monitor.
Het ontwerp van goedkopere USB-C hubs is vaak niet van hoogstaande kwaliteit wat vergelijkbaar is met uw Thunderbolt Mac of PC.
De Element Hub is niet alleen gemaakt van hoge kwaliteit aluminium, het heeft ook een tweezijdig design zodat u de dock zowel aan de linkerkant of rechterkant van uw laptop kan plaatsen.
Met het ingebouwde LED-lampje weet u gelijk of de Element Hub correct is aangesloten.
Thunderbolt en USB4 laptop gebruikers kunnen Thunderbolt, USB4, en USB-C apparaten aan de Element Hub aansluiten via een daisy-chain verbinding.

Gebruikers met USB-C computers (USB 3.2, USB 3.1) kunnen alleen USB-C apparaten aansluiten via daisy-chain verbinding. Voor het aansluiten van Thunderbolt apparaten via een daisy-chain verbinding is een Thunderbolt of USB4 verbinding nodig.
De Element Hub is een Thunderbolt 4/USB4 apparaat en is daarom ook compatibel met USB-C tablets zoals de iPad Pro en Windows tablets.
U kunt de Element Hub eenvoudig op uw tablet aansluiten en optimaal gebruikmaken van de verbindingsmogelijkheden.
Tablet & Ultrabook Charging
De Element Hub biedt niet alleen veelzijdige verbindingsmogelijkheden, maar laadt ook uw Tablet of Ultrabook op tot wel 60W via de [Computer] poort.
Voorbeelden van Populaire Tablets/Laptops
| Laptop/Tablet | Power Delivery |
| --- | --- |
| | |
| | |
| | |
| Lenovo ThinkPad X1 Carbon Laptop 14" | |
| Lenovo ThinkPad X1 Tablet 13" | |
| | |
| | |
In tegenstelling tot andere Thunderbolt 4 hubs op de markt laadt de Element Hub uw laptop tot wel 60W op. Terwijl andere Thunderbolt 4 hubs vaak alleen opladen tot 30W, biedt de Element Hub een consistente stroomtoevoer van 60W als het aangesloten is op een laptop zoals een MacBook Pro 13".
*Some of the above features will vary depending on the OS and host computer's capabilities.
Het aansluiten van meerdere apparaten op uw dock is handig maar om dan elk apparaat apart te moeten loskoppelen kan vervelend zijn.
Om dit te voorkomen hebben wij een macOS Utility Software ontwikkelt die het mogelijk maakt om alle dataopslag apparaten met één klik veilig los te koppelen.
Apple Watch
AirPods
iPhoneSE
iPhone
MagSafe Charger
iPhone
AirPods Max
iPad Pro/ iPad Air
EEN KRACHTIGE OFFLINE OPLAADSTATION
De Element Hub werkt zelfs zonder aangesloten te zijn op uw computer. Zolang uw USB-A of USB-C apparaten aangesloten blijven op de Element Hub worden ze opgeladen. Alle 8 poorten op de Element Hub kunnen tegelijkertijd gebruikt worden om offline op te laden.
Vaak zijn docks en hubs niet compatibel met de Apple SuperDrive omdat het meer stroom nodig heeft dan de USB poort biedt. Apple adviseert eigenlijk om het direct aan uw computer aan te sluiten. CalDigit heeft dit probleem opgelost door een driver te ontwikkelen die het mogelijk maakt de SuperDrive aan te sluiten via de Element Hub.
Interface
4 x Thunderbolt 4 (40Gb/s)
4 x USB-A 3.2 Gen.2 (10Gb/s)
1 x AC Power
Minimale Systeem Vereisten
macOS 11 of nieuwer
Windows 10 of nieuwer
iPadOS
Chrome OS
Thunderbolt 4 Computer
Thunderbolt 3 Computer
USB-C (USB 4) Computer
USB-C (USB 3.1) Computer
iPad Pro
iPad Air (4th Gen)
Windows Tablet
USB-C ChromeBook
Stroomtoevoer
Tot wel 60W Host Charging (5V/3A, 9V/3A, 15V/3A and 20V/3A)
Dimensies en Gewicht
Hoogte: 18mm
Breedte: 70 mm
Lengte: 114mm
Gewicht: 0.18kg
Verpakkingsinhoud
1 x Thunderbolt 4 Element Hub
1 x Thunderbolt 4 Kabel 0.8m (Passief)
2 x Rubberen Strips
1 x Oplader (150W)
1 x Oplaadkabel
Garantie
2 Jaar
Element Hub

OWC Thunderbolt Hub

Number of Thunderbolt 4 Ports

Full 60W (Under Heavy Load)
Full 60W (Under Light Load)

Limited 45W (Under Heavy Load)
Full 60W (Under Light Load)

Type-C (Host) 60W (20V. 15V/9V/5V 3.0A)
3X Type C 15W (5V 3.0A)
4X Type-A 7.5W (5V 1.5A)

Type-C (Host) 45W to 60W
3X Type C 15W 
1X Type-A 7.5W

Thunderbolt 4, Thunderbolt 3, USB4, USB-C Compatible 



Reversible Design for Optimum Hub Placement & Cable Management
Does the Element Hub work on a Thunderbolt 3 computer?
Yes, the Element Hub works on Thunderbolt 3 computers.
Thunderbolt 4 and Thunderbolt 3 are both 40Gb/s, and the Element Hub works great on both.
Some Windows PC manufacturers have limited the performance of their Thunderbolt 3 ports in order to restrict the number of external monitors that can be attached, and in some cases they have also removed laptop charging. Check to see if your PC supports two displays, and charging through the Thunderbolt 3 ports.
Apple M1 based computers only support one external monitor in total from their Thunderbolt/USB4 ports. Intel based Macs can support two displays through the Element Hub.
All Macs are required to update to macOS 11.0 Big Sur or above in order to be compatible with the Element Hub.
Does the Element Hub work on a Mac featuring the M2, M2 Pro, M2 Max, M1, M1 Pro, and M1 Max?
Yes, the Element Hub is the perfect companion for any M2, M2, Pro, M2 Max, M1, M1 Pro, or M1 Max computer.
 M2/M1 based Macs only support a single display through the Thunderbolt connection.
This is a limitation of the M2/M1 Macs at this time.
M2 Pro, M2 Max, M1 Pro, and M1 Max users can connect dual displays to the Element Hub when connected to those computers.
Can I use the Element Hub with the M1/M2 Mac mini since the Mac mini has its own power supply?
Yes, the Element Hub is a great option for Mac mini users.
When connected to the Mac mini, the Element Hub will not supply any power to Mac mini.
Can I use the Element Hub with the TS3 Plus, and does it matter where in the chain I add it?
Yes, the Element Hub can be daisy-chained to the TS3 Plus, or any dual port Thunderbolt 3, or Thunderbolt 4 device such as the TS3 Plus. You can either have it first or second in the chain. We would recommend to have the TS3 Plus directly connected to the laptop since it provides higher laptop charging.
If you plan to use your own laptop charger, we suggest you connect the Element Hub to your computer first then daisy-chain it to other devices from the Element Hub.
I have a laptop with over 60W charging. Will the Element Hub charge my laptop?
Since the Element Hub is a compact hub rather than a larger dock, heat management is of paramount importance.
60W is the optimum power delivery for hub of this size in order to provide enough power and keep the device at the perfect temperature.
If your laptop is above 60W the Element Hub will still charge your laptop at a slower speed.
If you are using CPU or GPU intensive applications we recommend that you connect the laptop's charger to your laptop.
If you require a device with faster laptop charging, CalDigit offers full size docks with 87W, and 94W charging.
Can I use the Element Hub without a power supply?
No, the Element Hub requires a power supply in order to operate.
The host Thunderbolt 4 connection provides 60W of power, the remaining Thunderbolt ports each provide up to 15W of power, and the USB ports provide up to 7.5W of power. To provide this much power the Element Hub requires a power supply.
If I am charging my laptop can I still charge USB devices?
Yes, the Element Hub can charge your laptop at the same time as charging USB devices.
How do I connect a monitor to the Element Hub?
If your monitor is Thunderbolt 3 or USB-C it can connect directly to the spare Thunderbolt ports on the Element Hub.
If you want to connect an HDMI or DisplayPort monitor you can purchase a USB-C to HDMI, or USB-C to DisplayPort Adapter, and connect it to the spare Thunderbolt ports.
Can I connect the LG 5K monitor to the Element Hub?
Yes, the LG 5K monitor has Thunderbolt connectivity.
Directly connect it to one of the Thunderbolt ports on the Element Hub and the monitor will start working.
What devices can I connect to the Thunderbolt ports on the Element Hub?
You can connect any Thunderbolt 3, Thunderbolt 4, USB4, or USB-C devices to the Thunderbolt ports on the Element Hub.
This includes, but is not limited to, external storage, eGPUs, docks, monitors, 10G Ethernet adapter, USB-C to SD card readers, and USB-C to ethernet adapters.

You can also daisy chain multiple Element Hubs together.
Can I use a longer cable with the Element Hub?
Yes, you can. Please use a Thunderbolt 4 cable that provides 40Gb/s performance and 100W power delivery.
CalDigit 2.0m cables are available from the CalDigit Online Store (From Feb 2021).