I mini dock Thunderbolt 3 offrono il modo più semplice e conveniente per ripristinare le porte del laptop. Gli utenti di Thunderbolt 3 possono riconnettersi con i loro dispositivi legacy nel modo più conveniente possibile.
I mini Docks offrono il modo più semplice per collegare due monitor 4K 60Hz al tuo laptop Thunderbolt 3 in modalità speculare o estesa.
** Intel-based Macs can support up to 2 external monitors from each Thunderbolt 3 bus. Apple M1/M2 Macs, such as the MacBook Pro 13", MacBook Air, and Mac mini, only support 1 external display though their Thunderbolt/USB 4 bus. Apple M1 Pro & M1 Max Macs support dual displays though the Mini Dock.
Hai un nuovo computer portatile Mac o PC Thunderbolt 3? Stai collegando innumerevoli adattatori di tipo C? La vita è più semplice con i mini dock Thunderbolt 3, a casa o in viaggio.
Un unico cavo cablato dal mini Dock al tuo laptop Thunderbolt 3 è tutto ciò che serve per illuminare due schermi, collegarti a Internet e aggiungere dispositivi USB.
Il perfetto compagno di viaggio
Porta il mini Dock in viaggio per connettere comodamente tutti i tuoi dispositivi.
*Alcuni produttori di PC Windows hanno deciso di limitare le funzionalità delle porte Thunderbolt 3 e USB-C, come la ricarica e la compatibilità del monitor. Verifica se il tuo PC supporta monitor esterni.
**Alcune frequenze di aggiornamento richiedono il supporto di DP 1.4 HBR3 e DSC 1.2 dalla GPU host e dal monitor. Alcuni host Thunderbolt 3 che supportano solo DP 1.2 saranno limitati a risoluzioni e frequenze di aggiornamento inferiori.
La profondità di bit/colore può variare per supportare frequenze di aggiornamento più elevate.
Il supporto di frequenze di aggiornamento più elevate può variare a causa degli aggiornamenti del sistema operativo.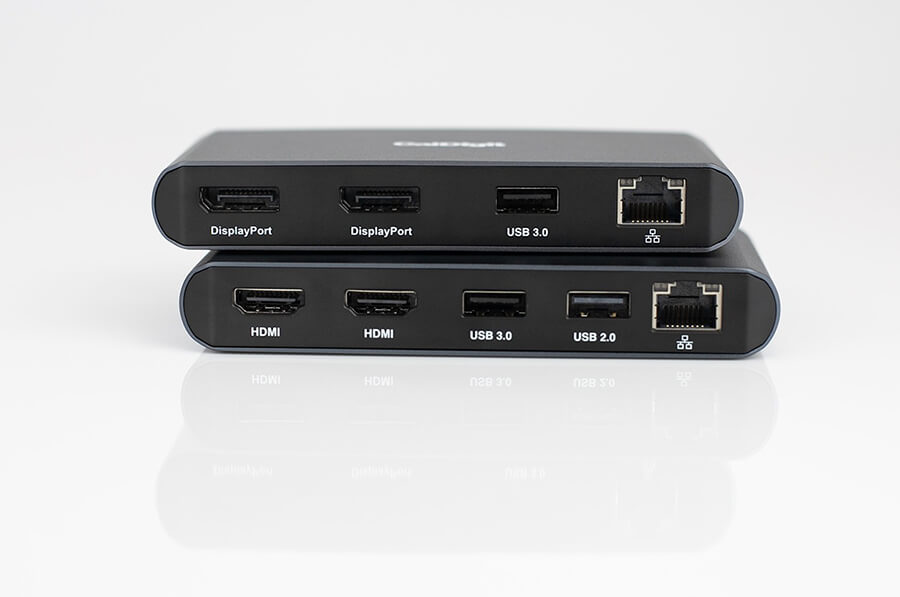 Scegli tra i modelli dual HDMI o dual DisplayPort per la tua configurazione specifica.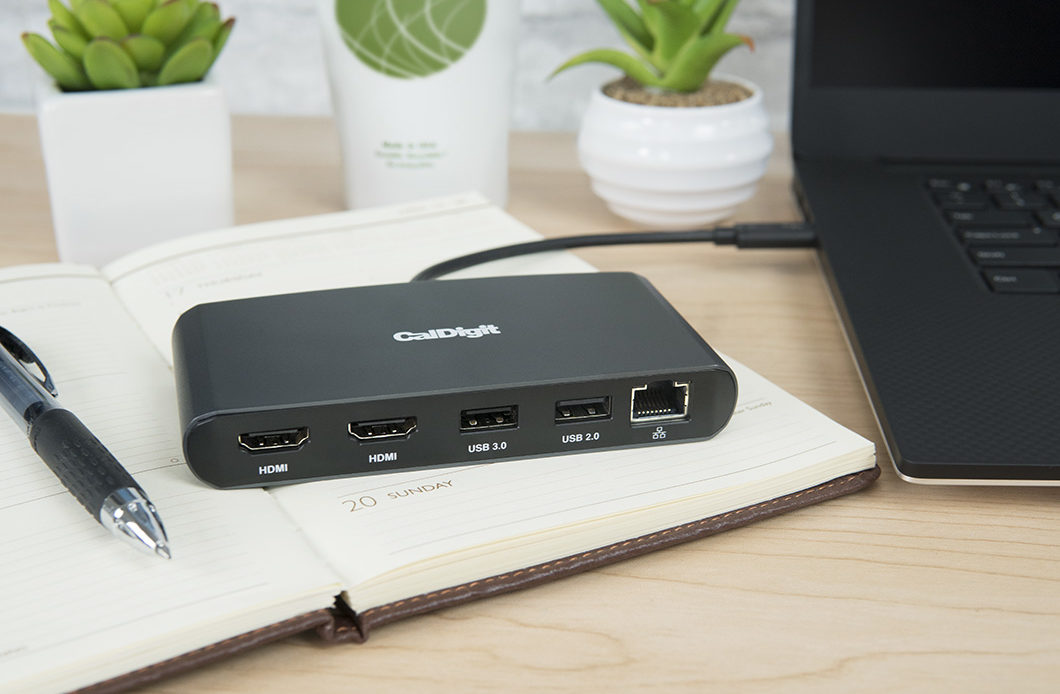 Sia che utilizzi l'ultimo MacBook Pro o il PC Windows Thunderbolt 3, i mini dock CalDigit sono completamente compatibili con entrambi.
*Apple M1 Macs and iPad Pro can only support a single external monitor.
M1 Pro & M1 Max based Macs support dual displays.
Questi dock sono dispositivi Thunderbolt 3 completamente certificati, a differenza degli adattatori economici USB-C che offrono solo prestazioni da 5 Gb/s, i mini dock CalDigit offrono 40 Gb/s per sfruttare al meglio le potenzialità del portatile Thunderbolt 3.
ADDIO ADATTATORI ECONOMICI USB-C
Le soluzioni di docking mini USB-C possono includere molte porte nella loro progettazione, ma non aderiscono ai 15W di potenza allocati alla porta Thunderbolt 3. I mini dock di CalDigit hanno la giusta quantità di porte per essere al di sotto dei 15W di potenza del bus che viene servita alle porte del laptop. Gli adattatori USB-C economici non rispettano le specifiche Thunderbolt 3 e possono essere dannosi per il laptop e causare problemi di alimentazione in quanto possono ottenere solo 7,5 W dal computer. I mini dock di CalDigit, d'altra parte, non hanno questo problema.
A differenza degli economici adattatori USB-C, i mini Docks di CalDigit sono costruiti in alluminio per sopportare le situazioni di ristrettezza tipiche del viaggio.
Connetti più dispositivi come unità esterne, tastiere ed altro.
| | HDMI mini Dock | DisplayPort mini Dock |
| --- | --- | --- |
| | | |
| | | |
CalDigit mini Dock Dual HDMI
Interfaccia
1 x Thunderbolt 3 (40 Gb / s)
2 x HDMI 2.0 (3840 x 2160 60 Hz o 4096 x 2160 60 Hz)
1 x USB 3.0 (5 Gb / s)
1 x USB 2.0 (480 Mb / s)
1 x Gigabit Ethernet (RJ45)
​
Requisiti di sistema
Thunderbolt 3 computers or Thunderbolt iPad Pro
Mac OS 10.12 o successivo
Windows 10 o successivo
​
Nella confezione
1 x CalDigit Thunderbolt 3
mini Dock - HDMI 2.0
​
Adattatore di alimentazione
alimentato dal bus
​
Ambiente
0°C ~ 35°C (32°F ~ 95°F)
CalDigit mini Dock Dual DisplayPort
Interfaccia
1 x Thunderbolt 3 (40Gb/s)
2 x DisplayPort 1.2 (4096x2160 60Hz)
1 x USB 3.0 (5Gb/s)
1 x Gigabit Ethernet (RJ45)
​
Requisiti di sistema
Thunderbolt 3 computers or Thunderbolt iPad Pro
Mac OS 10.12 o successivo
Windows 10 o successivo
Nella confezione
1 x CalDigit Thunderbolt 3
mini Dock - Dual DisplayPort
​
Adattatore di alimentazione
alimentato dal bus
​
Ambiente
0°C ~ 35°C (32°F ~ 95°F)